WorldFood Moscow will bring together global food market leaders for a 30th time
The 30th Anniversary autumn food and drink exhibition WorldFood Moscow will take
place on 21-24 September 2021 at Crocus Expo. The event will be organized by Hyve
Group.
Every autumn, for three decades running, WorldFood Moscow becomes a meeting
venue and a platform for exchange of experience the Russian and global food market
leaders. At the exhibition site, leading producers of food and beverages,
representatives of wholesale and retail trade, public catering and HoReCa get a
unique opportunity to negotiate with new customers and suppliers, expand the
geography of sales and sign new contracts, get acquainted with the market
innovations, and find new partners.
In 2021, over 600 companies will participate in the anniversary exhibition, of which
more than 110 will exhibit at WorldFood Moscow for the first time. The Russian
exposition will be represented by exhibitors from 59 regions: Altai Territory, Altai
Republic, Republic of Buryatia, Irkutsk Region, Kabardino-Balkarian Republic, Kursk
Region, Moscow Region, Primorsky Territory, Sakhalin Region, Udmurt Republic,
Republic of Khakassia, Chelyabinsk Region, and others. In addition, companies from
30 foreign countries will exhibit at WorldFood Moscow 2021. Azerbaijan, Burundi,
Chile, Czech Republic, Egypt, Italy, Kyrgyzstan, Korea, Peru, Poland, Serbia,
Slovakia, Sri Lanka, Turkey, and Uzbekistan will arrange national pavilions on site.
At WorldFood Moscow 2021 the exhibitors will showcase their goods in the following
sections: Fruit and Vegetables; Fish and Seafood; Meat, Poultry and Eggs; Dairy
Products and Cheese; Confectionery and Bakery; Organic and Healthy Food;
Grocery; Canned Food; Oil, Fats and Sauces; Soft Drinks and Alcoholic Drinks;
Frozen, Convenience, and Ready-to-Eat Food; Tea and Coffee; Non-Food. Among
the new exhibitors are such companies as: "Acorla", "Greenwise", "Sweet Life",
"IcePro", "Arnas Agro", "Baza", "GoodWin", "Dikoed", "Zaliv Vostok", "Master Jam",
"Mezheninovskaya poultry farm", "Moyo Leto", "Ochakovo" "Cherkizovo", "Filimonov
and Son", "Fresh Izyum", "Tsvet Prirody", "Ecotopia", and others. The full list of
WorldFood Moscow 2021 exhibitors is available on the exhibition website.
For the first time, WorldFood Moscow will feature a food truck zone, where "Efko",
in partnership with "Mobitruck", will present its vegan meat products for street food.
In a specialized zone (Hall 14, stand С1049), negotiations will be held between the
exhibitors and regional retail chains, members of the Union of Independent Chains
of Russia, of which 35 regional chains showed interest in the products of WorldFood
Moscow exhibitors.
Business programme
The WorldFood Moscow 2021 business programme will be formed by two major
events. One of them, the four-day Food Business Leaders' Forum, will be focused
on the exchange of experience and solutions to urgent problems of retail, as well as
presentations of up-to date statistics and market trends, with the participation of
industry leaders.
The Forum participants will include: Vladislav Kurbatov, General Director,
"Perekrestok"; Olga Naumova, General Director, "Eastern Union" alliance;
Sergey Leonov, Co-founder, "Alliance of Regional Retailers", General Director,
"Good Choice"; Anastasia Volokhova, Director for Strategy and Transformation,
"Lenta"; Evgeny Rimsky, Managing Director for Quality and Procurement,
"VkusVill"; Leonid Dovladbegyan, Managing Director, "Perekrestok Vprok";
Larisa Romanovskaya, E-commerce manager, "VkusVill"; Dmitry Zborovsky,
Vice President for Analytics and Growth, "SberMarket"; Elena Pudicheva, Product
Range and Pricing Director, "Utkonos Online"; Arina Knyazeva, Development
Director, "Ozon Express"; Alexander Isaevich, General Director of the Federal
Corporation for the Development of Small and Medium-Sized Businesses, "MSP
Corporation"; Stefan Duerr, President of the "EkoNiva" Holding; Viktor
Semyonov, founder, "Belaya Dacha"; Vadim Dolgov, General Director, "PRODO
Group"; Alexey Grigoriev, head of the Moscow office, "METRO"; Anton Borisyuk,
Senior Research Director, East European Region, "PepsiCo Holdings"; Evgeny
Dzhamalov, Director for Innovation, "Magnit".
For the first time at WorldFood Moscow, the international experience of retail
transformation will be presented by Ari Axeli, President of Finland's largest retail
company "Kesko Grocery division", and Jap van Vreden, Managing Director of
"Goal Consulting Ltd Hong Kong & NL-Platform the Netherlands". The main
topics of discussion will be innovation, speed, and profitable store growth with a focus
on sustainability and export.
As part of the Retail Academy programme for commercial departments of retail
chains, practical conferences will take place, focusing on the development of
categories "Fruit and Vegetables", "Confectionery", "Fish and Seafood", "Dairy
Products and Cheese", and "Healthy Lifestyle and Organic". The event will feature:
Ilya Goloviznin, Lead Category Manager, "Utkonos Online"; Andrey
Sushchenko, Owner, General Director, "Bread Manufactory"; German Galanov,
HR Training and Development Manager, "Okraina" retail chain; Ekaterina
Krishvalova, Marketing Director, "Kantata"; Sergey Ermolaev, Director of the
Fresh Food Category Department, "Magnit"; Yulia Kozlova, Category Manager,
"Comandor" retail chain; Elena Savchenko, Director of Private Label Department,
"Auchan Russia"; Alexander Erofeev, Director of Research and Innovation at "IDS
Borjomi"; Dmitry Kiselyov, Manager of the Purchasing Department of "Hyper
Globus" retail chain; Anna Belaya, Brand Manager of the Healthy Lifestyle
Department, "Azbuka Vkusa"; Elena Shifrina, CEO and Founder, "BioFoodLab",
creator of the "Take a Bite" brand; Artashes Davtyan, Head of Private Label,
"Yandex Lavka"; Marcin Kuprevich, Head of the Dairy Business Unit,
"Chr.Hansen Poland".
On 24 September, for the first time at WorldFood Moscow, the conference
"Innovations for food retail. Instructions" will take place, where trading
companies, platform aggregators, logisticians, retailers, restaurateurs,
entrepreneurs, manufacturers and distributors of food products, as well as other
experts of the food industry will meet. In the format of an open discussion, the
conference participants will discuss the behavior and development strategy of food
retail companies in the implementation of food-tech methodology and tools in their
activities. Experienced experts and practitioners of the food market will share case
studies and tips for digital transformation and tactics for involving owners in support
of innovative products, and they will also discuss how to get results from innovation.
Moreover, special attention will be paid to the principles of launching successful food
retail projects.
On the same date, a pitch session for food-tech startups will be held. Based on
the voting of the jury consisting of top fund investors, well-known entrepreneurs and
representatives of large corporations, the award will be given to innovative and
scalable projects that are attractive for investment.
In addition, WorldFood Moscow will host two awards ceremonies: Product of the
Year tasting competition and WorldFood Organic competition. More than 160
companies submitted applications, among them: "AISFER", "AKKOND", "United
Confectioners", "ECO Meat Processing Plant", "First Russian Product", "Danton-
Ptitseprom", "Melkombinat No. 3", "Endaksi", and others.
To celebrate the anniversary of WorldFood Moscow, the organizers will give away
a certificate for 15,000 RUB among the visitors, for going to a restaurant. Anyone
who takes a photo in the Fyffes zone (Hall 14, stand C6119) and publishes a photo
on Instagram with the hashtag #worldfoodmoscow2021 can participate. The results
of the competition will be announced on the last day of the exhibition, 24 September.
Sponsors and partners of WorldFood Moscow 2021:
§ Anniversary exhibition sponsor — "Fyffes"
§ Official exhibition partner — Korean Center of Argicultural Trade
§ "Fruit and Vegetables" section sponsor — "AyBaRus"
§ Sponsor of the pitch session of food-tech startups — "PoPolochkam"
§ General industry partner — Retail.ru.
WorldFood Moscow 2021 is supported by the Ministry of Agriculture of the Russian
Federation, the Federation Council Committee on Agrarian and Food Policy and
Environmental Management, the Committee of the State Duma of the Russian
Federation on Agrarian Issues, the Ministry of Industry and Trade of the Russian
Federation, the Rosselkhoznadzor, the Moscow Government, the Ministry of
Agriculture of the Moscow Region, Russian Union of Industrialists and Entrepreneurs,
and National Union of Milk Producers "Soyuzmoloko". The Russian-Latin American
Trade Agency (ACORLA), Azerbaijan Export and Investment Promotion Foundation
(AZPROMO), ICE Agency (ICE, Italian Trade Agency), and the Embassy of the
Kyrgyz Republic in the Russian Federation also sent their greetings to the
exhibitors, organizers, and guests of WorldFood Moscow.
Health & Safety
In line with the requirements of the authorities of Moscow and the Moscow region,
WorldFood Moscow was declared "Covid-free". The organizer of the exhibition
Hyve fully complied with the requirements of the Moscow city authorities and timely
provided vaccinations for 60% of its employees. All Hyve employees on site will have
QR codes confirming the statuses "vaccinated", "recovered" or "negative PCR test".
In addition, at the entrance to the exhibition site, the body temperature of visitors,
exhibitors, partners, and media representatives will be measured, as well as the
protective mask and gloves will be checked. You can find a detailed list of Health &
Safety measures on the exhibition website.
The 30th Anniversary autumn food and drink exhibition WorldFood Moscow will
take place on 21-24 September 2021 at Crocus Expo, Pavilion 3, Halls 14 and
15 (Myakinino metro station).
Download the programme of SOMMET DE L`ELEVAGE-2021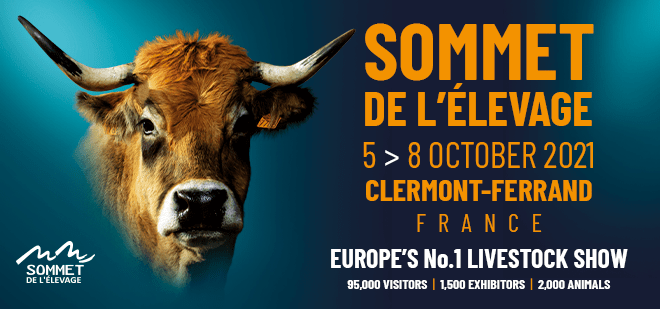 SOMMET 2021
Download the programme!
1,500 EXHIBITORS

including 310 international companies from 32 countries have registered for this 30th edition.
Consult the list of exhibitors and the interactive show plan to prepare (and optimise) your visit!
ANIMAL COMPETITIONS AND CONFERENCES

2,000 animals representing 70 different breeds on competition including the Aubrac
and Simmental breeds National Championships, auction sales, etc...
69 conferences and symposiums on current farming issues...
DOWNLOAD
YOUR FREE ENTRY BADGE

Entrance to the show is free for all international visitors and French overseas territories. Register now and download your SOMMET 2021 e-badge!
FARM TOURS 2021

Cattle, sheep & horse farms, research institutes, biogas plant, etc. 22 different visits are on the programme. Book your tickets now!
AUCTION SALE
and cocktail

20 elite heifers from 10 French beef breeds - Wednesday 6 October, 17.00-19.00,
Zénith arena

A cocktail will then be offered to all our international visitors
(France Génétique Elevage)
INTERNATIONAL
BUSINESS CLUB
(Zenith hall)

VIP reception for foreign delegations, work area,
interpreters, internet, customised advice, pray room, guided visits, etc.
IMPORTANT
A valid Health Pass will be required to access the show (i.e. a complete vaccination certificate OR a negative RT-PCR or antigen test certificate dated less than 72 hours OR a COVID recovery certificate dated less than 6 months)
Note : Russian and Chinese vaccines are not recognized by the European Union.
GETTING TO THE SHOW

Getting to the show, finding your accommodation, free shuttles from the hotels... all information are here to help you preparing your stay.
Cargill enters deal for Singapore chocolate maker Aalst
US agri-food group Cargill has entered an agreement to acquire Singapore-based chocolate maker Aalst.
Aalst Chocolate was founded in 2003 and makes products for retail consumers sold under its own brands, including Louella, while also serving the foodservice channel and manufacturers.
Cargill, a major supplier globally of B2B chocolate and cocoa products, did not disclose the financial terms for the deal, which is subject to regulatory approval.
"The acquisition will significantly expand Cargill's Asia-Pacific footprint, adding chocolate to its existing portfolio of cocoa products already sold throughout the region," Minnesota-based Cargill said in a statement.
Approached by Just Food to clarify the size of Aalst's consumer- and retail-focused business, a Cargill spokesperson confirmed it was about 3%. The Singaporean company does not publicly disclose its financial results.
"While we will focus on growing industrial and foodservice, which are core segments of Aalst's business, we also see the retail segment as an important channel for us to capture consumer insights, trends and inspiration to bring back into the ingredients and foodservice space, and thereby create a more valuable service and product development for our customers," the spokesperson for the US firm said.
Richard Lee, the founder and chief executive of Aalst, said in the statement: "We are proud of Aalst Chocolate's heritage as a Singapore company with a renowned presence of over 18 years in Asia's chocolate industry. Together with Cargill's global expertise and experience, we believe that this new venture will be well-positioned to harness the full potential of exciting synergetic growth possibilities and become an ideal integrated chocolate solution provider for our customers."
Aalst supplies more than 50 international markets, including other countries in south-east Asia, and China, South Korea, Japan and the Oceania region in the Asia Pacific. It makes artisan chocolates and compounds, "premium retail chocolate products", and "luxury" pralines.
Upon completion of the transaction, Aalst's manufacturing plant in Singapore and its R&D "capabilities" in the city-state and Shanghai in China, along with the firm's 200 employees, will become part of Cargill's cocoa and chocolate Asia-Pacific operations.
"The rapidly-growing Asian marketplace is increasingly wielding its influence around the globe, sparking inspiration and driving international trends," Francesca Kleemans, the managing director for those operations, said in the statement. "Joining with Aalst strengthens our position in this critical region, enabling us to become the supplier-of-choice for industrial and foodservice customers.
"With an expanded selection of value-added and specialty chocolate products and deep technical expertise, together we can accelerate innovation, better helping customers create products that continue to surprise and delight."
Aside from the deal for Aalst, Cargill added it is due to start its first Asian chocolate manufacturing operations in India in September to produce chocolate and chocolate compounds for the local market. In 2014, the company opened its first Asian cocoa processing facility in Gresik, Indonesia.
Brazil suspends beef exports to China after discovery of 'atypical' mad cow disease
Brazil has suspended beef exports to China after two cases of the 'atypical' type of mad cow disease were detected at separate meat plants in different states.
The cases were confirmed over the weekend at meat processing facilities located in Brazil's Mato Grosso and Minas Gerais states, Reuters and The Financial Times reported the country's agriculture ministry as saying.
Reuters said the suspension was part of an agreement on animal health agreed by Brazil and China last year. The suspension can allow Beijing to assess the situation, the news agency said.
The ministry said they were the fourth and fifth cases of atypical mad cow disease found in Brazil in 23 years, the new agencies reported. The FT noted Brazil shipped 490,000 tons of beef to China from January to July this year, making the Asian country its largest export market. The shipments amounted to US$2.4bn, the newspaper said, using data from the Brazilian Meat Exporting Industry Association.
There are two types of mad cow disease, or bovine spongiform encephalopathy (BSE), a progressive neurologic disorder found in cows. The classical form is caused by contaminated feed, while atypical is said to be rarer and happens spontaneously, usually in cows of eight years or older, according to the US Food and Drug Administration (FDA).
Brazil's agriculture ministry said there was no risk to animal or human health from the two cases, Reuters reported, adding the cases were confirmed on Friday (3 September) after samples were sent to the World Organization for Animal Health (OIE) laboratory in Alberta, Canada.
Brazil has never had a case of classic mad cow disease, the ministry said.
The suspension of beef exports will remain in place until authorities in China can make an assessment of the situation and decide whether to resume trade, the FT said.
It quoted the ministry's statement as saying the cases were atypical because they "occur spontaneously and sporadically and are not related to the ingestion of contaminated food", adding the two incidents of the disease had been detected before the cows were slaughtered.
IKAR invites you to Rostov-on-Don on September 16 for the XXVI International Conference «Black Sea grain and oilseeds 2021/22»
The Russian Grain Union and the Institute for Agricultural Market Studies will host on the 16 th of September 2021 the XXVI International Conference "Black Sea Grain and Oilseeds 2021/22" in the Congress-Hotel Don-Plaza 4*, Rostov-on-Don. http://ikar.ru/
Why did we decide to choose Rostov-on-Don? Firstly, for a long time the Rostov region is supposed to be one of the biggest agricultural regions of our country. About 1/3 of the population lives in rural areas and the agricultural sector reaches 13% of the whole GDP. Lands close to the Don are distinguished to be extremely fertile. Secondly, every year Rostov-on-Don becomes the biggest platform in the Southern Federal District for presenting innovations and achievements of agricultural business that turned out to be the crucial factor for choosing it as a site of the XXVI International Conference "Black Sea Grain and Oilseeds 2021/22". And in the third place this town is famous for its south hospitality that we're often have a lack of.
Traditionally participants will be offered eventful and a highly topical Program. Historically this conference is a key grain event. It traditionally takes place when the contours of a new harvest are quite clear while both the market prices and the regulator's behavior are still being formed.
The conference will be attended by the key representatives of the Government of the Russian Federation, representatives of the biggest domestic agriholdings, domestic and multinational traders, millers, oilseed crushers, export terminal managers, banks, and domestic policy makers. It is expected that as in previous years 250-300 Russian and foreign guests will take part in this event.
In the framework of the conference there will be considered the following themes touching upon the legislative support and the state regulation and functioning of the Russian grain market, new trends on the world grain and oilseed markets, grain quality in the new season, sowing campaign of winter crops, crop size evaluation in three FSU Black Sea countries and many others.
For detailed information on preliminary program, registration and participation conditions, sponsorship and informational support of the Conference, please, contact the organizers:
Russian Grain Union:
Anastasia +7 (977) 972-97-40
e-mail: This email address is being protected from spambots. You need JavaScript enabled to view it.