Shortcoming: Migration of Plasticizers
Bremen, September 2022 - A national testing campaign revealed such high levels of plasticizers in around a quarter of the foods containing oils in glass jars with PVC lid seals that they had to be objected to and withdrawn from sale. We are talking about the control campaign just concluded by the cantonal chemists of Switzerland and the Principality of Liechtenstein, who regularly carry out such tests with the aim of raising awareness of the problems associated with plasticizers and effective self-regulation. This is because the plasticizers used in lid seals made of PVC can be absorbed by foods containing a high proportion of oil due to their chemical properties. These contaminants are considered avoidable and are therefore undesirable. Overall exposure to plasticizers must be kept as low as possible in line with the precautionary principle. For this reason, reduction measures must also be taken and maximum levels complied with for foodstuffs and their packaging, according to the food control authorities, who once again had to reject too many samples due to the use of unsuitable sealing materials and, in some cases, extensive contamination with plasticizers.
In Germany, too, such tests are regularly carried out by independent institutes and often produce similar results. The question that needs to be asked here is: In times of countless discussions about safe and environmentally-friendly packaging, how are such results still being achieved? After all, it's not as if there are no alternatives.
The control campaign is not the only one to establish that there are definitely products whose lid seals are not made of PVC. These are uncritical in terms of plasticizer migration, available for both twist-off and press-on twist-off (P/T) closures, and in all the usual sizes on the market. Available from most closure manufacturers, they are extensively tested and qualified for all applications. These PVC-free sealing materials developed by Actega have been on the market for the past ten years under the brand name PROVALIN® and offer other benefits besides preventing migration of plasticizers into food.
When manufacturing PVC-free closures, liquid sealants containing PVC do not need to be dried in the drying ovens during closure production. This reduces energy consumption and avoids CO2 emissions. Closure manufacturer Pano can, for example, save around 500 tons of CO2 annually in the production of PVC-free lug caps. Following the strategy of "CO2 reduction before CO2 compensation", the company exclusively uses PROVALIN® sealing materials from Actega for the production of its PVC-free lug caps. The closure is very easy to recognize as a PVC-free closure because of the blue sealing ring.
Although the topic of plasticizer migration has been known for a long time and many major distributors and larger food manufacturers already rely on PVC-free lid seals for a range of products, the control campaign concluded that these alternatives are still underused.
Packaging should protect food, preserve it, present it in an appetizing way, and provide space for information and consumer recognition. But: environmentally-harmful manufacturing and disposal problems in the production of packaging materials should be minimized, and critical components that could transfer from them to food or other filling goods should be eliminated. Actega made this its maxim early on and has been focusing on PVC- and plasticizer-free sealants for beverage and food packaging for decades. A growing awareness of the need to be PVC-free has enabled the PROVALIN® family to grow to a large number of variants for all standard market applications. This also applies to the highly-sensitive area of baby food, where mainly press-on twist-off closures are used. Here, ACTGreen® PROVALIN® is the only PVC-free solution on offer. It is recognizable by the green ring in the seal.
Conclusion: Compliant instead of non-compliant. Complaints, non-compliance and withdrawal from sale are avoided by choosing a PVC-free lid seal. Thus creating sustainable added value with PROVALIN®.
Press contact: !Wir: Kommunikation und Unternehmensberatung GmbH, Dagmar Schumann, Carl-Cohn-Str. 77, 22297 Hamburg, +49 40 37417237,
This email address is being protected from spambots. You need JavaScript enabled to view it.
About ACTEGA:
ACTEGA is a division of the internationally operating specialty chemicals group ALTANA. With production facilities in Europe, North and South America and China, ACTEGA develops, produces and distributes specialty coatings, inks, adhesives and sealing compounds with a focus on the packaging industry. Following the motto "Packed with Expertise", ACTEGA does not only offer technically sophisticated product solutions, but also meets the high safety standards of the food, beverages, pharmaceutical and toy industries. Whether for flexible and metal packaging, folding cartons or labels, products by ACTEGA provide packaging with a high-quality appearance and innovative functionalities.
www.actega.com
Beyond Meat names Tyson's Ramsey new COO
The US meat-alternatives supplier has also hired another Tyson Foods veteran to a new role of chief supply chain officer.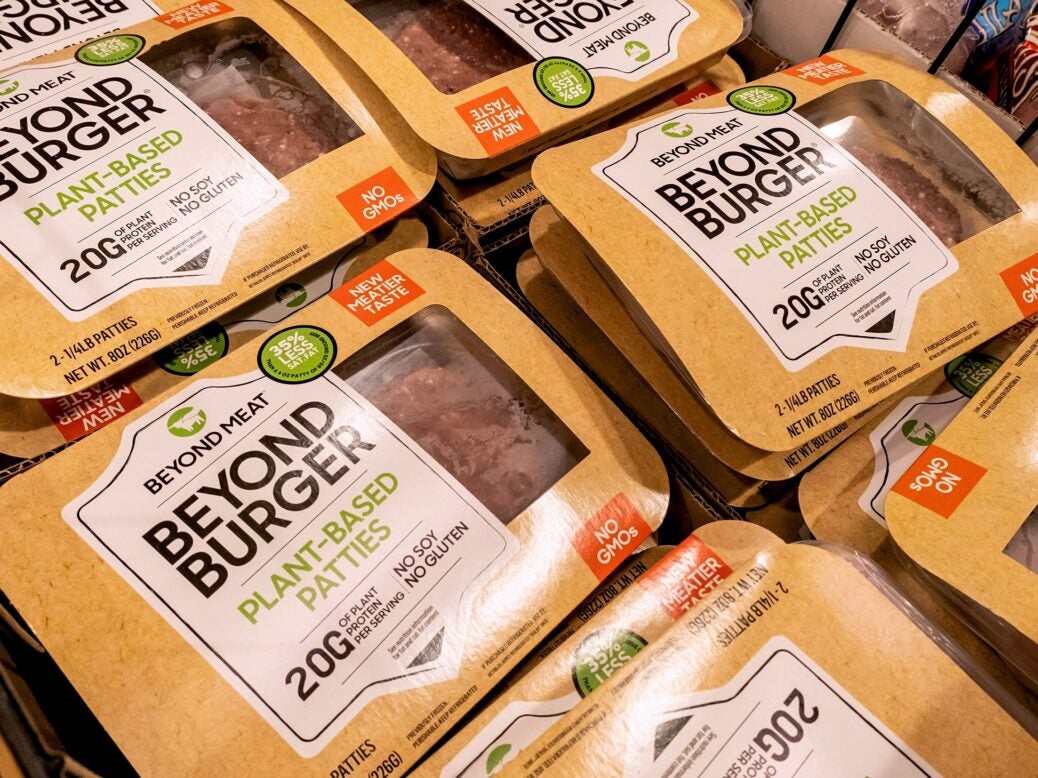 Beyond Meat has recruited two Tyson Foods veterans to senior positions at the US meat-alternatives supplier, which has seen pressure on its domestic sales in recent months.
Doug Ramsey and Bernie Adcock, who have both worked at Tyson for 30 years, are joining Beyond Meat as COO and chief supply chain officer respectively.
Ramsey, whose recent roles at Tyson include president of the US meat giant's poultry operations and president of its business with McDonald's, replaces Sanjay Shah as COO. It was announced in September that Shah, a former Tesla and Amazon executive, had left Beyond Meat after less than two years in the job.
Adcock, most recently Tyson's chief supply chain officer, joins Beyond Meat in the same position and takes what is a new role at the Beyond Burger maker.
Ethan Brown, Beyond Meat's founder and CEO, said: "Doug and Bernie bring a proven track record of impressive operational excellence in the protein industry that our global partners, customers, and consumers expect and deserve.
"As we've made clear, we are investing today in tomorrow's growth, whether by adding to our best-in-class management team or by building out operations around the world, to advance our vision of being the global protein company of the future."
In October, Beyond Meat downgraded its expectations for third-quarter sales, citing the impact of the pandemic, problems with distributors and customer labour shortages.
The company's third quarter, which ran to 2 October, ended up showing declining sales in the US, although international sales did grow.
Third-quarter revenues in the US fell 13.9% to $67.5m, with retail down 15.6% and foodservice minus 7.3%. Founder and CEO Ethan Brown said Beyond Meat faced challenges from an uptick in Covid-19, labour shortages and supply chain constraints, and "highly variable demand".
Brown suggested at the time the decrease was down to a "pause" in consumer demand rather than any structural issue in the appetite for meat-free.
During a follow-up call with analysts, he said: "There's no indication in my view that coming off of a record quarter of revenue in the second quarter to this quarter that there's some fundamental change in the consumer mindset toward our products.
"I don't think there's any sector issue or any segment issue. We continue to see strong year-over-year growth in terms of overall annual revenue. And if you look at 2022 and the work we're doing there, I think there's tremendous excitement in our company about what's coming.
"And so this is a bit of a kind of the pause. And had the pandemic and labour issues and supply chain stuff not interfered, I think this quarter would have been quite different."
Earlier in November, Beyond Meat rival Maple Leaf Foods, the owner of the Lightlife and Field Roast Grain Meat Co. brands, pointed to "a marked slowdown" in the category in the US (citing pressure in the refrigerated segment) – and said it was putting its dedicated division under review.
Just Food opinion, November 2021: Beyond Meat sales add to alt-meat misgivings
Spend 4 days in the heart of the world forum for sustainable livestock farming
This 4, 5, 6 and 7 October, the SOMMET DE L'ELEVAGE will open its doors in Clermont-Ferrand (France) to an expected 100,000 visitors. Awaiting them will be 1,500 exhibitors and 2,000 animals on show and a packed programme.
For this 31st edition, the SOMMET offers many highlights such as:
National Championship for the Charolais breed,
European Championship for the Simmental breed,
European Congress for the Hereford breed,
The "Sommets d'Or" technical innovation competition,
100 conferences covering all the latest hot topics in agriculture,
30 farm visits,
Many festive and convivial evenings...
and a VIP welcome for international press and visitors!
Do not hesitate! Come and join us for a press tour in the heart of Europe's largest grassland area to discover an exceptional showcase of the French know-how in terms of livestock production and the latest in farm machinery, equipment, and services for the entire farm industry, and most specifically the livestock industry.
Discover the complete programme
of the SOMMET DE L'ELEVAGE 2022!
Livestock judging, farm visits, conferences,
farm innovation award winners, etc.
MeatEx Canada-2022 is around the corner
MeatEx Canada is around the corner
MeatEx Canada opens its doors in less than two months, bringing together exhibitors and visitors from around the world to meet, network, learn and do business, face-to-face and in-person. We are all excited to welcome you to the show.
Date: 28 – 30 September 2022 (Wednesday – Friday)
Time: 10am – 5pm
Venue: Halls C, Enercare Exhibition Place

-------> Product Group
---------> Exhibitor List
The event of the year
Don't miss this opportunity to reach new markets, find new suppliers, establish new contacts, gain insights for your business, make sales, discover new products, processes, and technologies, and find out the keyways the industry is moving into the future. It all happens under one roof in Toronto from Sept. 28-30.

Visit our ticket shop now to purchase your admission ticket for this premier event dedicated to the meat, poultry, and seafood industry!

You can contact our visitor team at This email address is being protected from spambots. You need JavaScript enabled to view it..
The dates for the event are coming up fast! You're probably busy getting ready to visit, or to exhibit your products or services at MeatEx.
We wanted to help you prepare as quickly, easily, and cost-effectively as possible, so we're excited to let you know that as a MeatEx Canada exhibitor or attendee, you can book hotel rooms at special rates!
By booking a room or rooms at the Hilton Toronto or Sheraton Centre Toronto hotels through special links created for MeatEx, you'll receive the lowest rates and the best availability. Both hotels are located in the heart of downtown Toronto and near the Enercare Centre, easily accessible by public transportation or taxi.
The cut-off date for Hilton Toronto is Monday, Aug. 29, 2022, and for Sheraton Centre, Toronto is Thursday, Aug. 25, 2022. Reservations after these dates will be based on availability.
Hotels are booked quickly, so use the link in bio to make your reservation now!
Second Edition of Agritech Agrochemical Exhibition in Ghana
AGRITECH WEST AFRICA
Second Edition – Announcement!

Dates: 15-17 Mar, 2023
Venue: ACCRA INTERNATIONAL CONFERENCE CENTER,
ACCRA GHANA


We are pleased to announce the Second Edition of the Agriculture technology agrochemicals and allied sector exhibition in Ghana, AGRITECH WEST AFRICA Expo from 15-17 Mar 2023 in Accra Ghana.

First Edition Facts:
95+ Exhibitors,
2500+ Professional Visitor & Buyers, Dealer's distributors
10+ countries represented with 2 national pavilions
3000+ sqm total area
Profile of Exhibitors & Visitors: Manufacturers, Exporters, Importers, Distributors of Agriculture technology machinery implements tractors, agrochemicals fertilizers pesticides fungicides, irrigation pipes pumps motors drip systems sprinklers, agro food processing packaging, post-harvest protection processing, grain processing milling etc.

Key Facts on Ghanaian Market
Agriculture contributes 20% of Ghanaian GDP – largest employing sector with 65% land area in agriculture, where less than 2% is irrigated. Ghana is becoming the center of Business and Agriculture transformation in the West Africa region emerging as a trading, manufacturing & manufacturing hub.
Targeted double-digit growth in crop production like maize (30%); rice (49%); soybean (25%); and sorghum (28%) from current levels & create 75,000 new jobs, directly and indirectly.
Doubled up agriculture food production in last seven years from 2014 -21, moreover simultaneously there has been a continuous importation of agriculture technology, agrochemicals and other allied items in the sector of close to $1Bn for the last 4 years.
Ghana's annual importation of tractors and associated agriculture implements & parts account for 14% share in total agritech importation. Irrigation setups including pipes, pumps motors is the 5th in the row, where only 2% of agricultural land is irrigated.
Crop care & protection among the top imported products in Ghana's Agritech sector, followed by levelers, scrapers, mechanical shovels which are second in line with 15% share.
Fertilizers, Spare parts and machine tools are other products in the top 10 complementing the Agritech requirement of Ghana with a sizable volume.

Bookings Open! Book your Space and Confirm your participation in Agritech West Africa Expo from 15-17 Mar 2023. PLEASE WRITE TO US FOR BOOKING AND OTHER DETAILS OF THE EXPO.